Prostate Biopsy for Prostate Cancer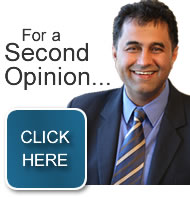 Email Raji.Kooner@svha.org.au or call 02 8382 6980 for a confidential appointment.
Prostate biopsies are how we diagnose prostate cancer. 
They're usually done if a patient has a PSA elevation or an abnormality on digital rectal examination. 
There are essentially two ways you can do a prostate biopsy. 
The first method is a trans rectal ultrasound and biopsy. 
This is the gold standard in biopsies. 
The second method which I also use selectively is a trans perineural biopsy where we do a biopsy between the back passage and the scrotum.  This I usually use as a second line.
Trans rectal ultrasound and biopsy I usually perform under sedation. 
Patients tolerate this extremely well, they receive intravenous antibiotics at the time of the procedure and hence they have a therapeutic dose of antibiotics at the time of the biopsy with a lower incidence of infection because of this. 
Patients are usually relaxed and hence they have less bleeding from the back passage. 
This also allows us to have a very good feel of the prostate to ensure that there are no specific nodules present or irregularities in the prostate.
I have presented this data on trans rectal ultrasound and biopsy and sedation internationally with 99% of patients saying they would be very happy to have this done again. 
I think the stories that people hear of bad experiences is usually when patients have these biopsies done without sedation. 
At the time of the biopsy we would take fine cores, usually 12 to 14 cores and these fine cores get sent to the pathologist for an analysis. 
The pathologist looks at this under a microscope and diagnoses if there is any prostate cancer.
The second method of biopsy was trans perineural biopsy. 
A probe is put into the back passage, we scan the prostate, we put fine needles between the scrotum and the back passage and we do multiple biopsies. 
This involves a general anaesthetic. 
I use this as a second line. 
Many world authorities including Pat Walsh, the father of prostate cancer surgery has strongly advocated not using trans perineural biopsies as the first line because he feels that there is significant and additional scarring by this biopsy method and this makes the subsequent nerve sparing procedure harder to do. 
I also feel that trans perineural biopsies probably leads to more swelling of the prostate and probably gives patients some more discomfort post operatively. 
But I do believe it's an important technique so in my practice my first line is trans rectal ultrasound and biopsy and if we follow patients and their PSA is still going up or we're concerned then I normally then do as a second line trans perineural biopsy.