Dealing with a Diagnosis of Prostate Cancer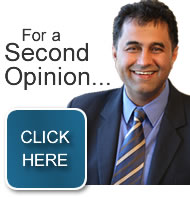 Email Raji.Kooner@svha.org.au or call 02 8382 6980 for a confidential appointment.
Well obviously when patients are diagnosed with prostate cancer it's a very, very significant thing in their lives and their whole family and I really understand what a big impact this makes to the patient and the family. 
They're often shocked and it's very hard for them to come to grips with the initial diagnosis. 
So I ensure that I have long consultations with them, we spend up to an hour at least on one and usually two occasions with them. 
I encourage the family to come along and we have a long discussion. 
I normally discuss the pros and cons of all the options. 
First of all I explain the pathology, we go through the findings, the diagnosis, the grade, the stage. 
I can then tell them roughly what the natural history of that disease is, if we do nothing or if they have treatment and then I discuss all the treatment options with them and I like to be able to offer all the treatments of prostate cancer which I do in my practice and I discuss the pros and cons of all these treatments.
So I will discuss observation or active surveillance with selective intervention. 
I'll discuss surgery in the form of open, laparoscopic surgery or robot assisted surgery and radiotherapy in the form of external beam radiation, high dose rate bracchytherapy and seed therapy or low dose bracchytherapy. 
I also discuss the experimental and emerging treatments of cryotherapy and high intensity focus ultrasound and finally we have a discussion about hormone therapy although that's generally used in very elderly men or people who have evidence of spread elsewhere.
So I discuss the pros and cons of all these treatments. 
I discuss this with the patient. 
We take into account issues that the patient has such as the size of the prostate, previous surgery and most importantly patient preference. 
So patients we'll give different waiting, to different potential side effects. 
Some patients will want to have surgery to have the cancer removed, other patients would prefer not to have surgery and to have another form of treatment such as radiotherapy. 
So it's a long and complex discussion but I think it's very, very important for patients to have this and generally it's a decision that the patient makes but with my guidance. 
We don't expect them to be experts in prostate cancer straight away but they get a very good understanding and usually they make a very good and very well informed decision after they've got all the information.