Testicular Cancer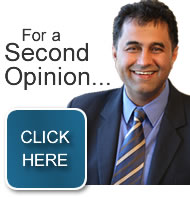 Email Raji.Kooner@svha.org.au or call 02 8382 6980 for a confidential appointment.
Testicular cancer occurs usually in young men between the age of 20 and 40. 
Usually patients feel a lump there and that's the commonest way of presenting. 
Treatment for testicular cancer has been transformed in recent years. 
You may have heard about Lance Armstrong who had spread throughout his body who is now cured of his cancer and so this, this is a cancer that we've had a great victory over because certain chemotherapeutic agents, for example cis platinum, works very specifically to testicular cancer.
Having said that, the major of patients do not need to have chemotherapy, nor do they present with evidence it's spread. 
Usually patients with testicular cancer present with a firm lump in the testes, generally the way it's treated is we do a radical orchidectomy, we remove the testes and the spermatic cord and that testes is removed and sent for pathology an analysis. 
Patients are usually in hospital overnight.
Now prior to this we do some staging tests such as CT scan and a chest x-ray to make sure there's no evidence of spread. 
At the time of surgery we also give the patients the option of having a prosthesis inserted, testicular prosthesis. 
So young men who are not married you know may wish to have that put in and we put a little synthetic prosthesis in and externally it appears very similar to a normal testes. 
So when we get the pathology back we divide testicular tumours into two groups, seminomas and non-seminomas and it's a very complex topic so we normally would refer you to an oncologist to discuss subsequent treatment but usually with non-seminomas we follow an observation protocol so we would do regular CT scans and monitor the situation. 
With seminomas traditionally patients go radiotherapy to the aortic area where the, where testes cancer would first spread to.
These days we tend to also offer an observation protocol for those patients. 
So the important thing with testicular cancer is there is an extremely high cure rate with testicular cancer and it's important for patients to self examine. 
The treatment is a radical orchitectomy plus or minus an adjunctive treatment if required.