Further Diagnosis and Staging of Prostate Cancer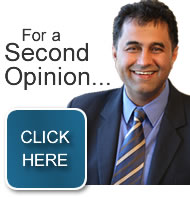 Email Raji.Kooner@svha.org.au or call 02 8382 6980 for a confidential appointment.
After a patient has a biopsy and is diagnosed with prostate cancer it's important for us to get some additional information. 
Usually we will have a very careful feel of the prostate at the time of the biopsy and determine what we call a clinical stage. 
If we can't feel the cancer it's called the T1 stage. 
If we can feel a nodule but it feels confined to the prostate it's T2. 
If it's, we can feel some obvious cancer and it's beyond the capsule of the prostate but not attached to adjacent organs we call that T3 and if it's attached to other organs such as the bladder or the side wall of the pelvis that's called a T4 cancer. 
That is very, it's very, very important to do this clinical staging because if we can feel the cancer and we feel that we can surgically remove it, even if it's a T3 that patient may be a suitable candidate for surgery, whereas if we feel it and it seems very extensive and we don't think we can remove it then that patient will not be a candidate for surgery and may need radiotherapy. 
So we have the clinical stage, the Gleeson score and then we do some other investigations to look for any evidence of metastites. 
If it's a low grade cancer we often don't do these tests but my practice generally is to do them in most patients and they involve a bone scan and a CT scan of the abdomen, pelvis and a chest x-ray. 
A bone scan checks for any involvement of prostate cancer involving the bones because prostate cancer commonly spreads to bones if it's going to spread. 
The CT scan is usually used to assess the lymph node involvement. 
If there's any associated lymph glands that are enlarged then they can be picked up by a CT scan.
So these tests ensure that there's no evidence of spread to the lymph nodes or the bones and this is what we would use when we work out the TNM stage, T is the tumour stage which I've explained, N is the lymph nodes, so it's either N0 or N1, if it's negative or positive and M can be M0, M1 if there's no spread to the bones or there's spread to the bones. 
So that's the staging test that we usually do. 
From this we determine the appropriate treatment for patients.