Robotic Surgery Information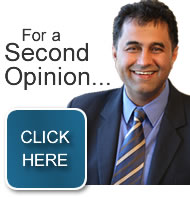 Email Raji.Kooner@svha.org.au or call 02 8382 6980 for a confidential appointment.
I'm passionate about Robotic Surgery. 
I do believe this is the future of all surgery. 
I think the robot device will improve and hopefully we'll move on to getting just a single port with a robotic device spreading inside the abdomen. 
I did the first robot assisted radical prostatectomy in New South Wales. 
I pioneered a lot of the techniques with the retrograde nerve sphere, pelvic floor reconstruction and these have improved my patient outcomes. 
I did the first robot assisted adrenalectomy in Australia as well as the first robot assisted nephrectomy in Australia. 
I have used the robot also for reconstruction of the renal pelvis, performing the first four -arm robot assisted pyeloplasty.
I believe the robot is really in its infancy and I do believe strongly that this is the future of surgery. 
The 10 times magnification, the three dimensional view, the intuitive nature of the hand movements allowing more degrees of movement than your hands, the gas pressure that compresses the veins and stops the bleeding I believe leads to a far superior treatment than the alternative of open surgery.